Water Damage Restoration Process at UCM Carpet Cleaning Scarsdale.
Our Restoration Pros Are Available Anytime
Our phones are on throughout the day, weekdays and weekends. Therefore, please don't shy away from calling us anytime your home gets flooded or damaged by water. Our specialists will ask you a few questions to understand the situation. Also, it's important to provide us with your basic information, like your insurance. After these steps, our disaster damage restoration experts will then dispatch to your location. We promise to be prompt to avert further property damage.
Water Damage Assessment
When we arrive at the location, the first thing we must to do is to inspect your property for damage. Our specialists will check any safety issues, locate the water source, and get moisture readings. We will then design a plan for the necessary protocol for repairing water damage and restoration.
Water Removal
We have the best equipment to get rid of excess water from your home. Our equipment uses the latest technology and is the tried and true way to guarantee effective water removal after a flood. The water removal step is necessary for preventing further water damage.
Damage Prevention
We get rid of building materials that were damaged by water, like drywall and water damaged ceiling while adhering to water damage restoration procedures. Our specialists also can clean water damaged carpets and rugs and dry them.
Drying Out After Water Damage
Once we have removed materials and items damaged by water, we then focus on drying the entire building items. Our water damage restoration team uses only modern drying equipment to control temperature, dehumidification, and evaporation for quick drying. Our professionals monitor the entire drying process to ensure that we meet the drying goals.
Rebuilding
We have experienced and qualified technicians to rebuild water damaged ceilings, drywall, or floors. We ensure that your property is restored to its original state.
Restoration
We are certified by the IIRC. Many years of experience have given us an upper hand in offering reliable water damage repair service for the Scarsdale, NY area. UCM Carpet Cleaning Scarsdale offer premium service, competitive prices, and a prompt response. Call us now at 914-902-8764 to get started with our water damage restoration process.
Carpet Cleaning After Water Damage Emergency
As a part of our restoration process, we are also offering professional carpet cleaning services. Carpets are often most affected by water damage, and mold thrives on them if not cleaned well and dried. We have fabric-friendly cleaning products that will get rid of that stubborn stain and dirt on your rug and carpet.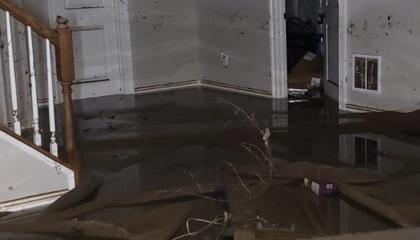 The carpet cleaning techniques we use on your water damaged carpet will depend on the water damage severity. The dry absorbent compound technique is effective for quick-drying after water damage. We also use:
Dry foam
Shampoo carpet cleaning
Steam cleaning
Call us today for a 100% satisfaction guarantee!
Mold Check Up
Minor water damage can also cause water damaged ceiling and water damaged carpets, among other damages. Besides these obvious damages, floods can also encourage mold growth. That is why you should consider mold checkup as part of the vital steps after flood damage. We have a team of professionals who prevent mold growth and conduct mold remediation where there are already signs of mold, such as visible mold and musty smell. We use professional mold remediation and mold testing methods.
Mold sampling and mold remediation are necessary, especially if you see visible signs of mold growth. Mold thrives where there is favorable temperature, moisture, and air. Call us today if you want to solve your mold problem as early as possible to prevent further damage after any form of water damage.
Water Damage Restoration FAQs
Can I Clean Up and Dry Out the Damage Myself?
You can clean up the water damage yourself as long as the water is clean. However, you should only do so if the extent of the water damage is not that severe and that you have proper safety gear. On the other hand, if the water damage is too severe, then you have to call for professional water damage restoration services as soon as possible.
Can Water Damage Be Hidden?
Water damage can be hidden if it's within household appliances or plumbing system. However, most significant and obvious indication of water damage is water stains. It's also likely a sign of hidden water damage when you see discolorations on your ceiling, floors, or walls without any reason. If you don't take actions immediately, it can cause severe damage to structures and it will require costly repairs.
What Causes Water Damage?
Different factors can cause water damage. The most challenging thing about water damage is that it can happen any time, suddenly. So, it is essential to know the cause of water damage and take the steps to prevent it in the future so that to lower the risk of experiencing damaged structural issues, flooding, and mold growth. Here are some of the common reasons for water damage:
Weather-related disasters
Leaking pipes and water heater
Clogged gutters
The water supply line from the washing machine is leaking
HVAC units
Blocked drains
Broken sprinkler systems
About Us
Water damage is often accidental, but great water damage restoration services are not. Here at UCM Carpet Cleaning Scarsdale we give our clients peace of mind as we clean and restore their homes and commercial buildings after water damage emergency. Our certified team has the expertise necessary to solve complex solutions to restore your property. Make the right choice by calling us at 914-902-8764 today!