Who Can Benefit from Upholstery Cleaning in Scarsdale?
Through timely upholstery cleaning service in Scarsdale, you can save yourself and your furniture. The biggest benefit is that it elongates the lifespan of your furniture. Moreover, the air quality in your home will be improved. Since the dirt particles and bacteria are removed, they will not contaminate the air. Another reason for having a professional cleaning session is that it protects you and your loved ones from harm. Sofas and couches trap all sorts of germs and allergens. Thanks to a professional upholstery cleaning service, they will be removed.
Some people believe that it's better to clean the upholstery themselves, but DIY methods are tiring. They drain your energy and cost you much more time than an average upholstered furniture cleaning session. Time is money too, so save your money by investing in the right choice. Our specialists are available for both residential and commercial buildings. We have specific tools to cater to the needs of both sectors. Whether your office chairs need a pick me up or your home couch needs a wash, we offer both.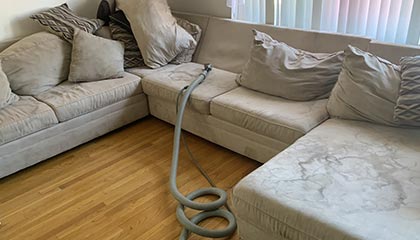 Eco-Friendly Methods
All the methods and techniques used at our company are safe. They do not harm the exterior of the upholstery. Rather, they restore the original shine. The following cleaning procedures are the most commonly used:
Steam cleaning: This process uses high-pressure steam or hot water to remove stains, dirt, and germs. For delicate couches and chairs, steam cleaning is an ideal solution.
Deep cleaning: First, we clear off the dust and then apply a cleaning solution. Each stain and spot is removed, and hot water extraction is used to clean the entire surface. Once the stains are gone, the item is dried.
Foam cleaning: It comprises of using dry foam. This dry foam helps to lift dirt from any upholstery without causing damage to the surface.
Green cleaning solutions
Our sofa cleaning and couch cleaning chemicals are not only efficient in removing deep stains but are also nontoxic. They cause no harm to the environment. Here at UCM Carpet Cleaning Scarsdale, we value environmental safety as much as customer safety. All the cleaning agents are harmless. Even your pets won't feel any irritation from them.
Stain Removal Services
Sometimes removing stains by conventional methods is an impossible task. However, our latest solutions and machinery can do it easily. All the equipment is tested and verified. Even the cleaning solutions are safe to use on any kind of material. No matter how tough a spot might be, it will be gone after one session with our professionals. Our upholstery cleaning techniques are of top quality.
When in need of the best upholstery cleaning specialists near you in Scarsdale, contact our technicians at 914-902-8764. We believe in providing first-class services to every client. Our services are complete and we leave only when you are happy. Our best upholstery cleaning specialists will arrive to your homes to refresh and clean your upholstery. We are here to help you solve your crisis.