Protective Methods in Rug Cleaning
At UCM Carpet Cleaning Scarsdale, we offer professional rug cleaning to protect your carpets and make them look brighter. Our green cleaning solutions encourage us to make the most environmentally-friendly materials and provide toxic-free cleaning for your rugs. As a result, the rugs return home looking healthier, shinier, and fresher.
Steam Cleaning
Hot water extraction is one of our most prominent green cleaning solutions for your area rug cleaning. In this process, we use hot water to clean your rug thoroughly and eliminate all the debris, bacteria, and germs that may be underlying it. The method also helps remove mold growth. Above all, steam cleaning can instantly wipe off any blotchy stain and spills that may not be visible easily. The result is a soft, top-quality rug that looks brand-new.
Deep Cleaning
Our rug cleaning service also offers deep cleaning techniques to deliver spotless cleaning solutions on time. The cleaning process involves thorough rug clean-up that removes all the accumulated filth right at the moment. It helps eliminate any debris, bacteria, and mold without enough hindrance. So, when your rug is returned to you, it looks surprisingly soft and shiny. Deep cleaning does not affect the quality of rugs at all. So, when you receive them after the process is complete, the rugs look healthy and bright.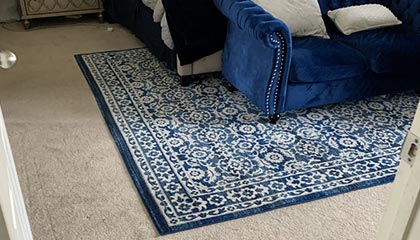 Our Step-by-Step Rug Cleaning Practice For You
Connect with us to get our solutions.
Our best cleaning staff will be available to do the job.
We will analyze the fabric of your rug and the treatment it needs.
We will select the best rug cleaner and green cleaning solution accordingly.
Our team will clean the rug gently using chemical-free products.
Once the rug dries up, we will deliver it to you in its best condition.
Different Types Of Fabric Cleaning
Our professional rug cleaning involves comprehensive-time commitment and diligence. Unlike other local rug cleaners who barely scratch the surface to clean your rug, we make sure to provide it the proper treatment to retain its quality. We start by analyzing what fabric it is made of. Then, our certified cleaning staff evaluate the best type of cleaning method tailored to the fabric material. This helps keep its longevity intact and provides the rugs the exact cleaning treatment they need.
Our best rug cleaner professionals clean an assortment of fabrics. Wool, natural fabric, silk, and synthetic are some of the most common fabrics we clean. Our solutions also cover oriental rug cleaning, area, and fringing rug cleaning. So, no matter the cleaning technique your rug demands, we will take care of it.
What Is Our Best Way to Clean a Rug For You?
Our team of certified professionals at UCM Carpet Cleaning Scarsdale is available to provide the best rug cleaning services for our customers. For our services we use eco-friendly products to clean your rugs and help them retain their quality. It also helps maintain their natural shine and color. As a result, your rugs sustain for a longer time and play a crucial role in beautifying your home like never before.
Our rug cleaning service in Scarsdale, New York, enables you to seek our solutions without any inconvenience. So, if you need our rug cleaning solutions, you can call us without wasting any time.
Why We Are the Best Choice for Rug Cleaning in Scarsdale
Green cleaning solutions to produce toxin-free rugs.
Retain rug quality and improve its longevity.
Highly efficient cleaning staff to perform the cleaning effectively.
Quality-driven results to make you come back for more.
If you need our rug cleaning solutions call UCM Carpet Cleaning Scarsdale at 914-902-8764 to get a free estimate. Apply right away and experience a standout rug cleaning experience to remember.