Mold Inspection Services
These tiny black specks growing on your wall can be much more dangerous than you imagine them to be. They could slowly conquer the entire household. Therefore, we provide complete mold inspection services in Scarsdale, NY. By acquiring our services you can gain help from our certified mold inspectors in detecting areas of intensified mold growth.
Our skilled professionals apply advanced mold inspection techniques and follow all safety measures to ensure that you and your family members feel secure. In addition, our experience and knowledge means that we know not only how to test, but also the best places to collect samples to get testing results that are the most accurate to your situation. Needless to say, when you acquire our service you ensure quality and efficiency.
Moisture Detection
Poor ventilation in attics or many crawl spaces around the house can give rise to moisture and this could lead to an exponential growth of mold. The same can be said for small hidden leaks, that can drip behind the wall for a long time before it is noticed. UCM Carpet Cleaning Scarsdale offers clients expert services to diagnose such problems and identify points in your home which could propel moisture to fuel mold growth. Corrective measures are suggested to clients once an inspection is done and the problem has been detected.
Without proper removal of moisture, the chances for mold growth can increase. Hence it is imperative for people who are moving into new homes or office space to first carry out detailed moisture detection at their place.
Why Is It Important to Hire a Mold Inspector?
Did you know that mold can spread within 48 hours? It can transform into a complete disaster if timely action is not taken. UCM Carpet Cleaning Scarsdale gives a chance to people to avoid such a catastrophe by knowing how to take care of the problem. Our in-house experts have years of experience in inspecting for mold and collecting mold testing samples from some of the most difficult and rugged surfaces.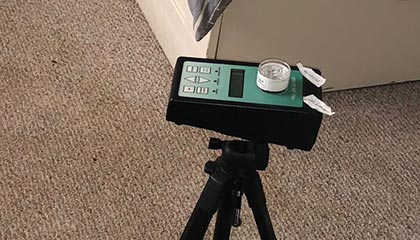 If you choose to proceed to mold remediation with our team, you should know that we have the necessary training tools and resources to eliminate mold from every corner of your house. We follow strict safety protocols to ensure housemates are safe. Before performing mold remediation, we seal the entire area to minimize exposure thereby preventing any possible damage. We can also pack and store any important valuables during the entire restoration process. The areas are cleaned to perfection once the mold is collected and removed from the affected surfaces.
The Professional Difference
We have the certification and licensing required to provide a professional testing service. When we sought out a partner to help improve our response time and availability, we found these characteristics also in O2 Mold Testing. This partnership has allowed us to improve our availability to all our customers.
From on-site analysis to disinfection, all steps at UCM Carpet Cleaning Scarsdale are taken with utmost care because for us the well-being of our clients and their families is crucial. Consult with our experts today by calling us at 914-902-8764 or get an estimate.
Mold Testing FAQs
Why Do You Need to Opt For a Professional Mold Inspection Service After the Water Damage?
Mold inspection is highly recommended after water damage because a humid environment is conducive to mold growth. If the water damage happens in areas that are difficult to reach, such as inside the walls, a professional mold inspection company can inspect and remove any mold growth there. They can identify and find all the areas with mold and moisture and provide you with a comprehensive solution to your mold problem.
What Problems Mold Can Cause?
Aside from damaging homes, people are sensitive to mold and can suffer from allergic reactions when they inhale or touch mold spores. In this case, mold can cause hay fever-type symptoms such as runny noses, skin rashes, sneezing, red and watery eyes. Those who has severe mold sensitivity can experience more severe reactions such as shortness of breath. It can also trigger asthma attacks.
How Quickly Can Mold Spread After Water Damage?
Mold can begin to spread and grow after water damage within 24 hours after being exposed to the source of moisture. Mold spores can colonize within 3 to 12 days and can be visible within next 18 up to 21 days. Simply put, there's a better chance for mold to spread as long as the source of the moisture is not eliminated. Unless action is done to get rid of the source, it will always trigger mold growth to spread. Make sure the area is permanently dry before you can expect permanent freedom from mold.
Mold Testing Tells You What To Do Next
Mold remediation could be an extensive process especially if the mold is widely spread around the house. Once the mold detection is complete, you will receive a full report of what was found, plus a plan for the mold remediation. Our team members detect all sorts of leaks and drainage problems so you will know what needs to be fixed to avoid any future outbursts of molds in the house.
Immediate repair is essential to prevent your property including your house or office from permanent damage. Our qualified experts can intelligently detect all such leakage points and make recovery assessments accordingly.